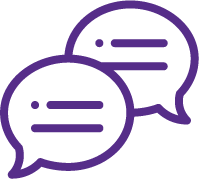 If you are not quite ready for a call, text can be a great first step.
Expect a reply within 24-hours, any day of the year.
Please call 1.855.654.6735 if you need support right now.
Send your text to

[email protected]

We will respond as quickly as our current contact volume permits.
If you need an immediate response, please call us at 855-654-6735
A formal text platform is currently in development, we look forward to connecting with you there soon!
What you can expect when you text:
To connect with a specialist who cares about what you are going through and who wants to help
To be treated with empathy, compassion, patience, and respect
To be heard, understood and supported with confidentiality and objectivity
To participate in a risk assessment to determine recommendations and a plan for your safety or the safety of the person about whom you are calling
To have someone help you figure out what you need right now and help you get it
With your consent, we can provide you with ongoing, focused support with regular contact until you connect with a formal treatment service or until the crisis resolves.
FOR NON-NEW JERSEY RESIDENTS
If you live outside of NJ but within the USA, you can reach the Crisis Text Line by texting HOME to 741741
*If you or someone you know is in immediate danger, or in need of medical assistance please call 911